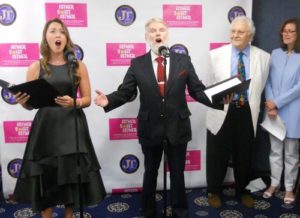 Esther, Sweet Esther!
by Joe David
There wasn't a single dry eye in the room at the National Press Club after two performers finished singing their musical medley from the two-act operetta Esther, Sweet Esther – presented by Jeremiah Theatricals.
The original new operetta by Jeremiah and Wendy Ginsberg, based on the Biblical story of Esther, will be making a pre-Broadway visit to Washington for a one-night premiere concert at the National Press Club on Sunday July 30th. During the performance for the Host Committee Tuesday at the National Press Club, Esther took center stage where it joyfully released some of its musical magic to a spell-bound group of visitors from the media, theater and arts.
"The operetta isn't just another musical in concert," Wendy Ginsberg said. "With its Broadway-style delivery and uplifting message, it is more meaningful than the typical Broadway-bound production. Esther, Sweet Esther could be compared to Candide or Les Miserables with its strong theme, charming music and acting finesse." (Read more at Hollywood On The Potomac.)
You Are Invited!
Sunday July 30, 2017 at 7:00 PM
At The National Press Club
The One-Night Concert Version Performance
Of The pre-Broadway Musical,
"Esther, Sweet Esther!"
Based on the well-loved Biblical story, "Esther, Sweet Esther" is a light and witty, two-act operatic musical about Esther, the heroic and faithful Jewish maiden who, after becoming the Queen of Persia, conquers the man with a little square mustache out to destroy her race.
Audiences of all ages and faiths will be touched by its timeless yet contemporary message and charmed by its lilting music and subtle Jewish wit. A cast of 11 stage and screen actors will sing their way into your hearts with original and sparkling tunes.
WHO: The Broadway and Hollywood theatrical team of Jeremiah and Wendy Ginsberg will bring to the stage a romantic biblical story, featuring the young African-American opera star, Kyaunnee Richardson, as Esther in the cast of 11 talented performers, including many Broadway, National and International Tour actors.
WHEN: Sunday, July 30, 2017 at 7:00 PM (The Performance was fantastic! See the Comments and Reviews!)
WHERE: The National Press Club, The Ballroom on The 13th Floor, 529 14th Street NW, Washington, DC 20045, (202) 662-7500
WHAT: The Ginsbergs' fourth musical is based on the Book of Esther, which celebrates in comedic-dramatic-operatic style the life of Esther, the beautiful Jewish maiden, who courageously risks her life for the safety of her people. By combining the best of Broadway with the power and poetry of the Bible, the husband and wife team that brought to the stage the award-winning biblical musicals, "Rabboni," "Mendel & Moses" and "The Time of Mendel's Trouble" is bringing to Washington their latest collaboration, "Esther, Sweet Esther," for a one-night-only Concert Version Performance before producing a limited engagement in a DC theatre, and then on to Broadway.
TICKETS: A Special Priced Silver Circle Ticket is $60.00 per person. There will be a limited number of VIP Gold Circle Tickets of $175.00 per person reserved in the front rows. Those purchasing a VIP Gold Circle Ticket will receive passes to attend the private VIP After Party where they will have the opportunity to Meet & Greet the Cast and Production Team, and share a Photo Op with them. Hors d'oeuvres, desserts and a voucher for one drink, as well as a cash bar will be available.
MEDIA CONTACTS:
Joe David – (540) 428-3175
jdavid@bfat.com
Jan Du Plain – (202) 486-7004
jan@duplain.com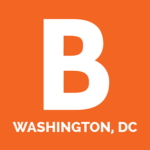 Esther, Sweet Esther!
July 13, 2017 | Travis Holler, Bisnow

Many thanks to the famous Willard Intercontinental Hotel for the discount rates on Accommodations and Rehearsal Space extraordinaire!